History of Wunderlich METAL CEILING DIVISION NSW 1880's - 1940's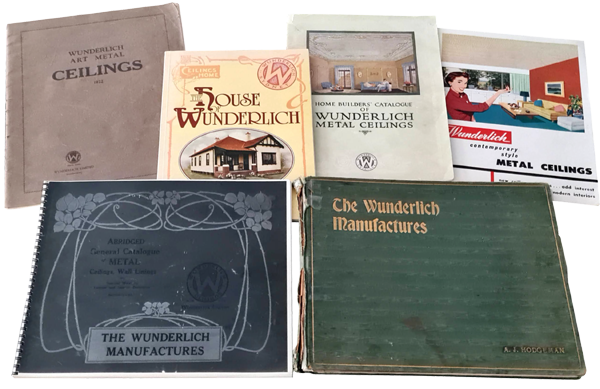 Ernest Wunderlich arrived in Australia in 1885 as a business agent for European Manufacturers and within a few years realised a demand for stamped zinc ornamental roofing and windows from builders and architects which he imported at that time. In 1887 Alfred Wunderlich joined his brother Ernest and manufacturing of ornamental zinc panels, cornices and architectural products began, this was the beginning of Wunderlich Manufactures.
In 1888 the Sydney Town Hall became the first ornamental metal ceiling of many, produced by Wunderlich. The manufacture of stamped metal began. Skilled tradesmen were imported from Europe as demand grew. Quality work and reliable execution made Wunderlich ceilings popular in architects specifications. In 1900 a third brother, Otto Wunderlich joined the company as a director. In 1893 zinc was replaced by steel as it was more economical, and every year thousands of tons were stamped into ceiling material for use Australia wide. In 1908 Wunderlich opened in Wellington New Zealand and Perth, 1909 in Brisbane, 1910 in Adelaide with Hobart and Launceston following. The Wunderlich parent company was located in Baptist St Redfern Sydney and had an extensive range of metal products.
Art Metal Ceiling and Architectural Metal Work Products by Wunderlich:
Ceilings, Cornice, Rails, Mitres, Vents, Windows, Roofing, Facades, Doors, Gates, Nameplates and Plaques, Light fittings, Wash Basins, Fascia and Awnings, Shop Fronts, Columns, Showcases and Shop Counters…the list is endless.

"Indifferent work is never Wunderlich's" "A ceiling for every room in every home" slogans used for Wunderlich products.



---