History Of Pressed Metal
Australian Pressed Metal are passionate at preserving unique heritage features and have researched, collated and catalogued over 100 years of Australian Pressed Metal history, information, products and designs. In 2010 we were fortunate enough to purchase the original pressed metal dies from TW Inghams & Sons in South Australia, the last remaining original pressed metal manufacturer left in Australia, saving them from the same fate as the Wunderlich dies, thousands of which were destroyed back in the 1970's when the company was bought out and heritage features were not as highly prized as they are today. No other company in Australia has the extensive knowledge, experience and range of products and designs as Australian Pressed Metal.
History of Wunderlich Metal Ceiling Division NSW 1880's - 1940's
Wunderlich Metal Ceiling
Ernest Wunderlich arrived in Australia in 1885 as a business agent for European Manufacturers and within a few years realised a demand for stamped zinc ornamental roofing and windows from builders and architects which he imported at that time. In 1887 Alfred Wunderlich joined his brother Ernest and manufacturing of ornamental zinc panels, cornices and architectural products began, this was the beginning of Wunderlich Manufactures.
"A ceiling for every room in every home''
Stamp Metal Begins
In 1888 the Sydney Town Hall became the first ornamental metal ceiling of many, produced by Wunderlich. The manufacture of stamped metal began. Skilled tradesmen were imported from Europe as demand grew. Quality work and reliable execution made Wunderlich ceilings popular in architects specifications. In 1900 a third brother, Otto Wunderlich joined the company as a director. In 1893 zinc was replaced by steel as it was more economical, and every year thousands of tons were stamped into ceiling material for use Australia wide. In 1908 Wunderlich opened in Wellington New Zealand and Perth, 1909 in Brisbane, 1910 in Adelaide with Hobart and Launceston following. The Wunderlich parent company was located in Baptist St Redfern Sydney and had an extensive range of metal products.
Wunderlich End Of an Era
The world wide event of World War 1 caused a major disruption to the importation of steel supplies and was the beginning of the decline in metal ceilings. When World War 2 broke out the metal works were turned over to the war effort. The final blow in the downturn of metal ceilings was in favour of a new Wunderlich product - Durabestos. In 1969 Wunderlich was bought out by CSR and delisted on the Australian Stock Exchange in 1970.
Art Metal Ceiling and Architectural Metal Work Products by Wunderlich:
Ceilings, Cornice, Rails, Mitres, Vents, Windows, Roofing, Facades, Doors, Gates, Nameplates and Plaques, Light fittings, Wash Basins, Fascia and Awnings, Shop Fronts, Columns, Showcases and Shop Counters…the list is endless.
History of Anthony Hordern Metal Ceiling Division NSW 1900's - 1930's
Anthony Hordern & Sons was once the largest department store in Sydney NSW and arguably at one time, the world, selling a huge diverse range of items including clothes & baked goods, to hardware and building materials, including pressed metal ceilings and cornice.

Anthony Hordern
Originally set up as a drapery store in 1823, the family run business expanded to Haymarket in the mid 1850's, including stores The Warehouse and Palace Emporium.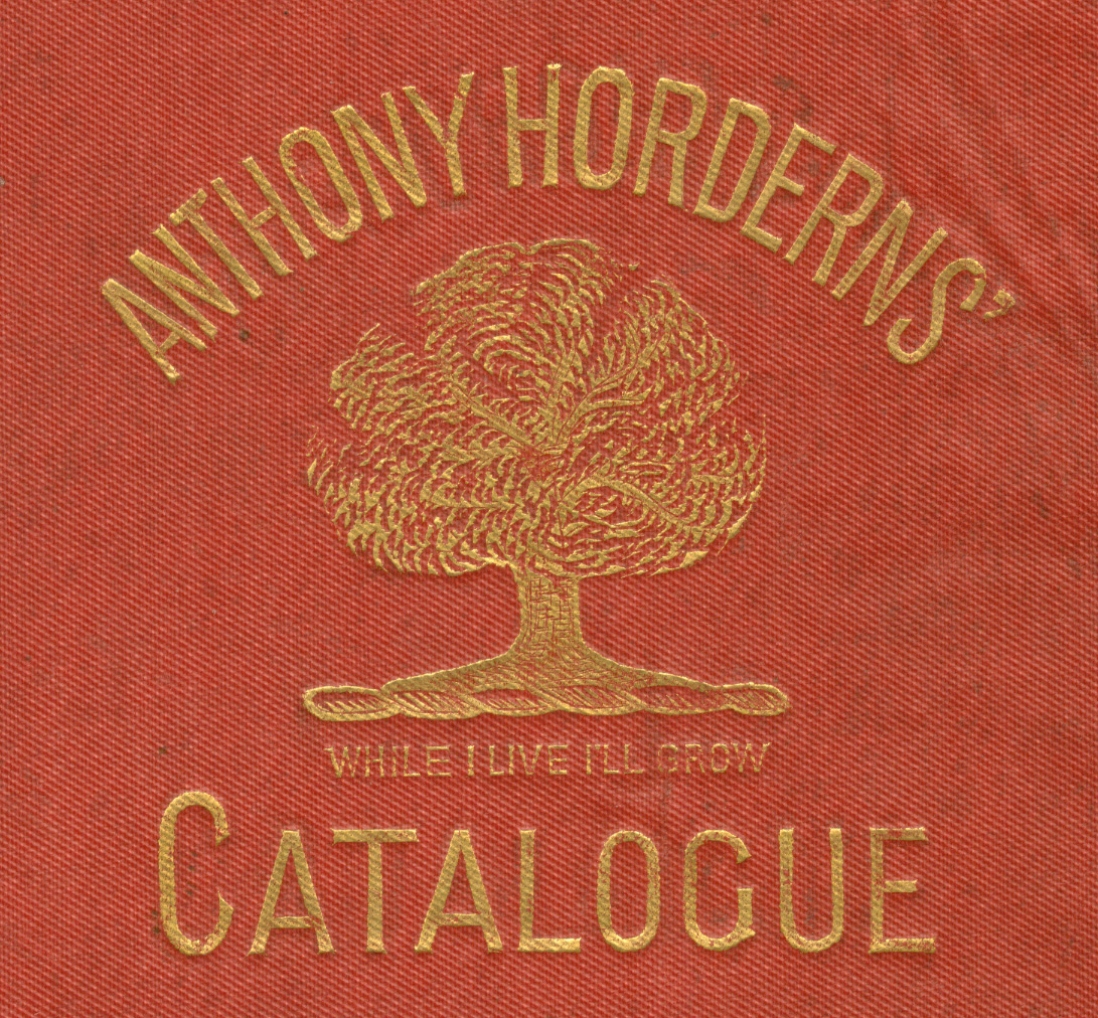 ''The old fashioned lath & plaster ceiling is a thing of the past, its place being taken by a strong, sanitary, handsome looking, non- flammable ceiling of steel''
Fire & New Factories
In the early 1900's the Anthony Hordern Catalogue of Embossed Steel Ceilings offered over 100 pressed metal products including panels, dados, cornice, centre pieces & moldings which were produced locally at their Redfern factory. These pressed metal or embossed metal products as they were then referred to were in competition with Wunderlich pressed metal products, however Anthony Hordern & Sons were lesser known and did not have the extensive product range that Wunderlich offered.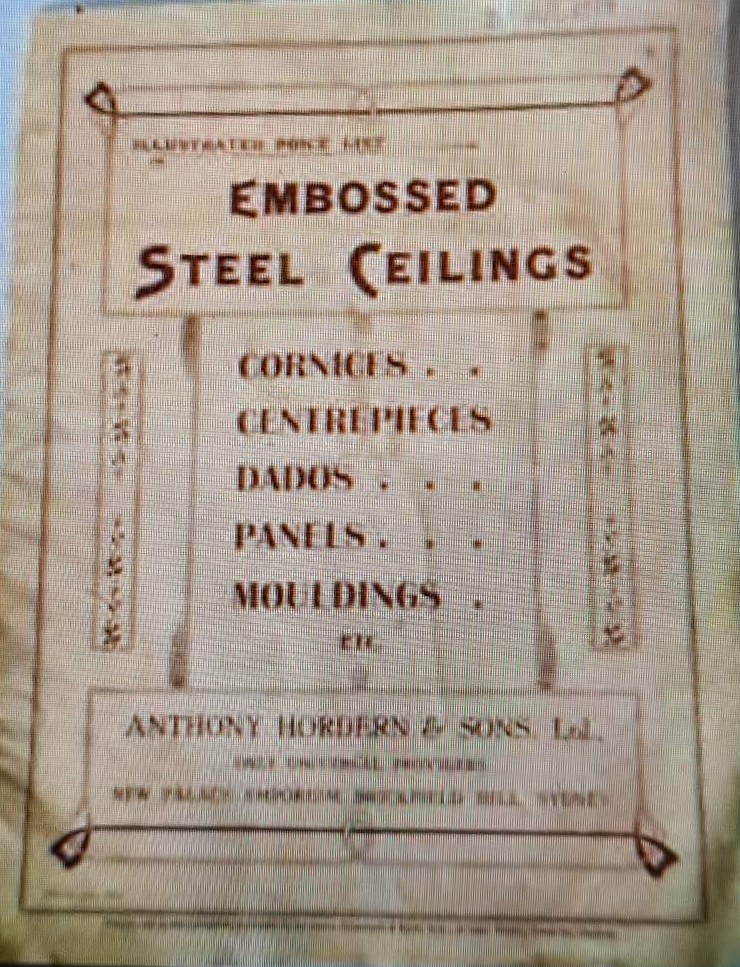 New Palace Emporium
In 1905 The New Palace Emporium was built on the old Brickfield Hill site after the Haymarket premises was destroyed by fire in 1901. The company established factories across Sydney and by 1894 had fully functioning furniture & bedding factories followed by iron & brass foundries, copper & tinsmiths shops, enameling & marble works, clothing, sporting goods, bicycle works, bakery, printing office and other services.

Anthony Horden & Sons Sale
In 1912 the Anthony Hordern & Sons was sold to a Private Liability Company and in 1926 the mostly family owned business was sold to a public company. By the early 1960's with profits declining, Anthony Hordern & Sons were finally taken over by Waltons in the 1970's suffering a similar fate as Wunderlich. Sadly Anthony Hordern & Sons massive historic city store at Brickfield Hill, The New Palace Emporium, was controversially demolished in 1987, taking with it a century of history.

History of TW Inghams & Sons South Australia 1892 - 1980
Many are familiar with the Wunderlich name in conjunction with pressed metal products in Australia, however a lesser known but prominent name in South Australia is TW Inghams & Sons. An Adelaide based South Australian company, TW Inghams & Sons was formed in 1892 by Thomas Warren Ingham a fibrous plasterer based in Victoria Place, Adelaide.

Thomas Warren Ingham
Following the recognition of the need, Thomas Warren Ingham and Sons began to produce pressed metal ceiling and wall panels in 1892 from a factory in Victoria Place, Adelaide. In 1920 operations were transferred to a factory in Forestville and Thomas ran the business with two sons, the eldest Halbert Warren Ingham and youngest, Theodore Newell Ingham. After a disagreement Theodore split from the family business leaving Halbert to take over and keeping the TW Ingham and Sons name. Thomas Warren Ingham retired in 1927 and passed away in 1931 aged 71 years. Halbert Warren Ingham successfully ran the business until 1980 when it was purchased by a group of individuals who foresaw the need to preserve the old craft and heritage of South Australia's older buildings.
Halbert Warren Ingham
Halbert successfully ran the business until 1980 however his interest and presence in the company continued up until his death in 1995 aged 93. The plaster division was eventually on sold to Heritage Ceilings in Thebarton and Adelaide Pressed Metal procured the original pressed metal dies of panels, cornice, rails and mitres in 2010. A treasure trove of forgotten history is being unearthed and all pressed metal products are being restored or reproduced to their original condition through Australian Pressed Metal.
Production 1800's v 21st Century
Production of Pressed Metal products late 1800's - early 1900's
Step 1- Die modelled in clay
Step 2- Die cast in plaster Step 3-Die cast in zinc or iron Step 4- Stamped in zinc / steel or bronze or copper for specialty projects.
Production of Pressed Metal products 21st Century
Original dies repolished and restored if possible. Reproduced to exacting details using cutting edge computer technology. Available in Aluminium, Steel, Copper, Brass, Galv, Heritage Galv, Zinc.
History of Australian Pressed Metal -
Present Day 21st Century, Preserving Our Heritage Buildings
The Australian Pressed Metal Group are the manufacturing and distribution specialists of premium quality pressed metal products throughout Australia and New Zealand. The head office and state of the art showroom showcasing 100s of designs on display and holding stock of every design and cornice is located in Adelaide at 20 Fifth Street Brompton, just minutes from the CBD. Australian Pressed Metal and Adelaide Pressed Metal is owned and operated by Phil Cooymans, a prominent member of the South Australian building and ceiling industry with over 40 years experience. Phil commenced his apprenticeship in the ceiling industry in 1977 which importantly included competency based training in the use of pressed metal. After working in the building industry for many years Phil formed his own company in 1984. Adelaide Pressed Metal was formed in 2000 as demand increased for pressed metal designs manufactured in original imperial measurements, for heritage restoration. With this in mind Phil opened the first showroom with a stock list of around 36 designs. The Australian Pressed Metal Group was later formed and there is now an outlet in every state throughout Australia & New Zealand, run by licensed trades- men, experienced in the installation of pressed metal and the building trade. The list of designs and products has continued to grow and there are now hundreds of products available. Australian Pressed Metal now have the largest range of original pressed metal designs in Australia and will keep adding more as we preserve our heritage and make exciting discoveries in our warehouse vault.
Preserving and restoring Australia's unique heritage buildings and architectural features has gained significant importance in recent years and advances in technology have made this attainable and cost effective. Australian Pressed Metal are fortunate enough to own the original pressed metal dies from TW Inghams, the last remaining original pressed metal manufacturer left in Australia, saving them from the same fate as the Wunderlich dies, thousands of which were destroyed back in the 1950's along with Anthony Hordern Embossed Steel Panels which also ceased production when both companies were bought out and heritage features were not as highly prized as they are today.
Australian Pressed Metal are continually discovering original dies in our warehouse, designs that haven't been seen for many years. These original dies are being restored to the highest exacting standard, using 21st Century technology and first-hand experience and expertise of original pressed metal products. All products are pressed in premium O grade aluminium to a specific formula in our manufacturing process, a hygienic food grade quality, suitable for raw aluminium splashbacks and is fire rated and tested by the CSIRO to guarantee the quality of the product.
Australian Pressed Metal is the leading specialist company for Heritage restoration in Australia, reproducing to exacting standards original Wunderlich, T.W. Inghams and Anthony Hordern design panels, cornice, rail, vent, mitre or architectural feature for any project on a commercial and domestic scale. Australian Pressed Metal are passionate at preserving unique heritage features specializing in Heritage listed buildings such as Flinders St Train Station in Melbourne Victoria, Perth Cultural Centre, Perth, Western Australia, Sydney Waterboard, Carlton House York Street and Central Station Sydney NSW to domestic residences. All Australian Pressed Metal products are produced from the highest quality materials while retaining original authenticity.
Australian Pressed Metals commitment is to produce the best quality product, stock the largest amount of genuine pressed metal products in Australia and offer decades of knowledge and experience to protect the authenticity of pressed metal products and our heritage features.
Panels are pressed from a premium O grade light weight aluminium, heat resistant and suitable for an endless variety of applications including for splashbacks in kitchens, laundries and bathrooms, wall paneling, door inserts and kick panels, feature walls, bedheads, mirror frames and behind stoves and combustion heaters, outdoor kitchen BBQ splashbacks and feature walls, doors, fences, screens and gates as well as the traditional use for ceilings, walls and gables, fascia's and awnings, shopfronts and counters. With todays technology we can offer many designs as specialty orders pressed in Copper, Brass, Soft Zinc, Perforated Steel, Colour- bond, Zincalume and Heritage Galv.
Drawing on decades of experience in the conservation of our heritage listed buildings throughout Australia we offer a full service to Builders, Architects and Interior Designers for all pressed metal products in the restoration of pressed metal ceilings and cornices and architectural features.
As we are committed to preserving our unique architectural heritage we have a code compliant contracting arm, National Pressed Metal, operating throughout Australia and New Zealand. Australian Pressed Metal is proudly Australian owned and all products are manufactured in Australia.